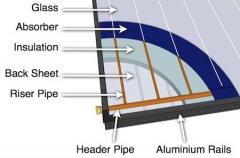 Flat Plate Solar Collectors
Product classification:
The new Westech flat plate collector, coming soon! The Westech flat plate solar collector combines high efficiency aluminium solar absorber sheet with super lightweight insulation and rigid body rails to form a high efficiency panel suitabl
Toll Free Tel:+86-510-85160845 roger@wt-solar.com

Product Description
The new Westech flat plate collector, coming soon!

The Westech flat plate solar collector combines high efficiency aluminium solar absorber sheet with super lightweight insulation and rigid body rails to form a high efficiency panel suitable for residential and light commercial projects.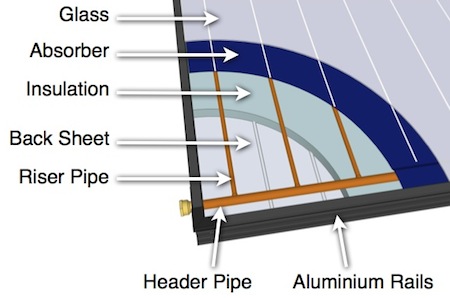 Flat Plate Solar Collectors


Design Overview
While the basic flat plate design has been around for a long time, and is the most widely used type of solar thermal panel for domestic hot water supply, not all collectors are designed and made alike. Choice of material and design aspects can greatly affect not only the solar thermal performance but also the reliability when operating in many varied environmental conditions. Westech has chosen only the highest quality materials to ensure reliable, efficient operation and collector longevity. The diagram below shows the basic construction of the collector.
Glass
Toughened glass (glazing) protects the absorber from the outside environment while allowing through >90% of sunlight.
Absorber
A thin sheet of Aluminium is coated with a highly selective material that is extremely efficient at absorbing sunlight and converting it into usable heat. The aluminium sheet is ultrasonically welded to the copper riser pipes.
Insulation
The insulation helps reduce heat loss from the sides and back of the collector. Made from ultra-light weight melamine foam this material is chosen to greatly reduce the weight of the collector.
Back Sheet
An aluminium alloy sheet seals the back of the panel and adds to the rigidity of the collector.
Riser & Header Pipe
The header and riser pipes are brazed together to form a harp shaped heat exchanger that the solar system heat transfer fluid circulates through. The absorber sheet is ultrasonically welded to the riser pipes, thus transfers heat to the heat transfer fluid.
Aluminium Rails
Extruded from high tensile 6063-T5 aluminium alloy, the rails form the outer framework of the collector and are design with wings for easy mounting frame attachment.