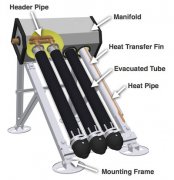 Evacuated Tube Solar Collectors
Product classification:
Westech WT evacuated tube solar collectors convert energy from the sun into usable heat. This energy can be used for hot water heating, pool heating, space heating or even air conditioning.
Toll Free Tel:+86-510-85160845 roger@wt-solar.com

Product Description
Westech WT evacuated tube solar collectors convert energy from the sun into usable heat. This energy can be used for hot water heating, pool heating, space heating or even air conditioning.
Product Overview
Westech AP evacuated tube solar collectors are available in a range sizes.
Note: some models may not be available in your local market
WT-10
WT-20

WT-22

WT-30
Length

2005 mm / 78.9"

Height

136mm / 5.35" (not including mounting frame)

Width

796mm / 31.34"

1496mm / 58.9"

1636mm / 64.4"

2196mm / 86.45"

Peak Output*

650 Watts / 2,210 Btu

1,296 Watts / 4,422 Btu

1,425 Watts / 4,862 Btu

1,944 Watts / 6,632 Btu

Aperture Area
0.94 m2 / 10.1 ft2
1.88 m2 / 20.23 ft2
2.07 m2 / 22.3 ft2
2.83 m2 / 30.46 ft2
Gross Area
1.59 m2 / 16.95 ft2
3 m2 / 32.3 ft2
3.28 m2 / 10.1 ft2
4.4 m2 / 47.4 ft2
Gross Dry Weight

35 kg / 77 lbs

63.5 kg / 139.8 lbs

71.3 kg / 156.8 lbs

95 kg / 209.44 lbs

Fluid Capacity

310 ml / 10.5 fl oz

550 ml / 18.6 fl oz

600 ml / 20.3 fl oz

790 ml / 26.7 fl oz

Ideal Flow Rate

1L/min / 0.26 USG/min

2L/min / 0.53 USG/min

2L/min / 0.53 USG/min

3L/min / 0.8 USG/min
* Data from ITW report 09COL805. Calculated at midday (trans IAM = 1), G=1000W/m2, ?T (tm-ta)=0

Westech Evacuated Tube Solar Collectors Operation
Step 1: The absorber coating on the inner glass tube absorbs sunlight and converts it into heat.
Step 2: Steam forms inside heat pipe which transfers heat rapidly up to the manifold.
Step 3: A pump circulates water or heat transfer fluid through the header pipe, carrying heat back to the storage tank. Gradually throughout the day the tank is heated up.
The tank can be boosted by an electric element, gas/oil boiler, or the solar tank can simply feed an existing water heater tank with solar pre-heated water.

Westech Collector Mounting
Westech WT solar collectors can be mounted on a roof, wall or even on the ground. The key is ensuring optimum exposure to the sun through the day.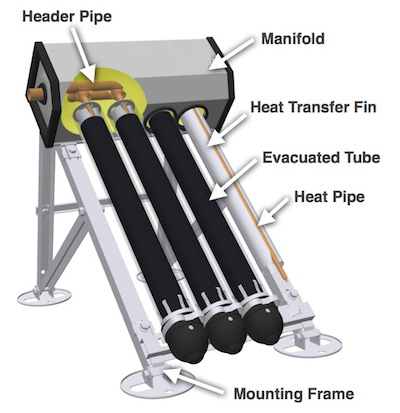 Evacuated Tube Solar Collectors
Design Advantages
Evacuated Tube Efficiency,The vacuum space in the evacuated tube greatly reduces heat loss. This greatly increases the conversion efficiency at higher water temperatures or when the outside temperature is very cold. For a thorough understanding of evacuated tubes